We stayed at the
W Hotel Austin
- a ritzy, glitzy hotel if I do say so myself. Back in December, Chris won a three-night stay for a fraction of the cost through a silent auction. It came with a spa gift certificate and a restaurant voucher. We made the most of both.
The hotel was in the perfect location just a bit north of the lake. It was within walking distance from great eateries, the lake, and fun shops. The room was modern and sleek, with an amazing view of both the city and the lake surrounding by green trees.
Our favorite perk was the Acura car which would take us anywhere within a five-mile radius for just a tip. This was so much cheaper than a cab and a much nicer ride.
I had created a full itinerary of things to do based on suggestions I had received
from a few people prior to the trip.
We went to Barton Springs Pool where the water was still too cold to get all the way in, but nice enough to lay out on the lawn and relax. We topped it off with snowcones and hiked an actually pleasant mile and a half back to our hotel on a shaded hiking trail that curved around the lake.
per Chris' one request of the entire vacation.
We both got manicures and pedicures at the Away Spa inside the W and seeing as how my nails have yet to chip, I consider it a job well done. And yes, my husband has his first spa experience and liked it.
At dusk one night, we crossed over to the South Congress bridge where we stayed put for a good hour waiting for the bats to fly into the night. Thousands flew beneath us into the dark, tree-lined city.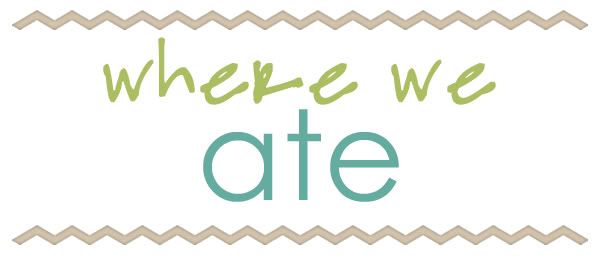 Trace, the restaurant at the W which had an interesting menu
making us be more adventurous than normal
Taverna, a delicious Italian eatery with a great outdoor patio
Jo's, a casual spot for breakfast, coffee, and a quick lunch
Stubb's BBQ, an amazing bar-b-que Sunday brunch complete with an all-you-can-eat buffet
and a talented live gospel band
Mozart's, a coffee house on the lake with a dog-friendly patio and relaxing, green atmosphere
Which Wich, a sandwich chain that was quick and delicious for a lunch to go
Austin Java, a cafe with good food all day long and even better coffee
Guero's, a Tex-Mex restaurant on South Congress with a fun atmosphere
And now you know.