Some days, I feel like our entire
house
becomes a catch-all spot. We used to dump everything on our dining room table as we came into the house: purse, keys, sunglasses, mail, books, and shopping bags. Then, I found an inexpensive mail sorter and a neat wooden bin to try to catch everything.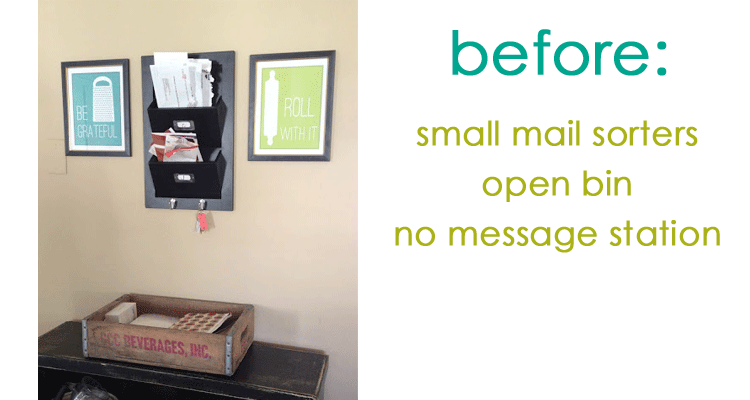 It worked for a while, but then I noticed some problems. First, the bins were too small and would fill up within just a few days. Second, the open bin revealed our mess and I felt like I had to keep
that
clean, too.
Recently, I solved both problems. I found a cute mail sorter at a discount store that had three bins: one for me, one for Chris, and one for us. The "us" includes coupons, dinner deals and grocery ads. I also found a wicker basket at a garage sale with a lid where I could store some necessities: extra sets of keys, pens and pencils, and scissors. I keep a pad of paper off to the side to capture any notes or messages.
Now we just have to really break the habit of dumping everything on the dining room table. And kitchen counter. And coffee table.
How did the challenge go for you this week? Link up!