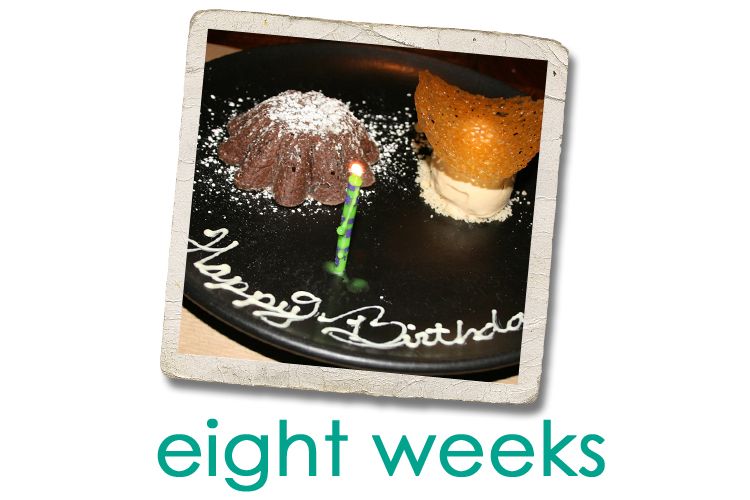 I received a much-needed break from the nausea this week. I started drinking ginger ale and I hereby consider it a miracle. With just half a can in the morning, the nausea stayed at bay until late afternoon, but at least by then I could go home from work, crawl into bed and ward it away with sleep.
My birthday was this weekend and two months ago I had told your dad I wanted a big, all-out party. With the news of you, we opted for a staycation instead. We spent the weekend alone with dinner, a rented movie and time by the pool. I couldn't have asked for a better way to spend it. I would have liked to enjoy my dinner a bit more, but I've taken an aversion to meat lately. However, I did inhale the complimentary dessert.
I am getting anxious to tell others about you. We go in for our first appointment next week (where I will be 9 1/2 weeks along) and I am so very excited. While you feel and seem so real, I am ready for a doctor to look me in the eyes, tell me I am in fact pregnant, and maybe even get a glimpse of you if we're lucky. I think it will make it just that more exciting. Once we go to our appointment, we will start telling your family and our friends about you within a week or so. No one knew you were even a thought on our minds, so I am expecting lots of surprise.
We are embedding you in our future each and every day as we plan for the months ahead. I can't wait until you are a permanent part of it.