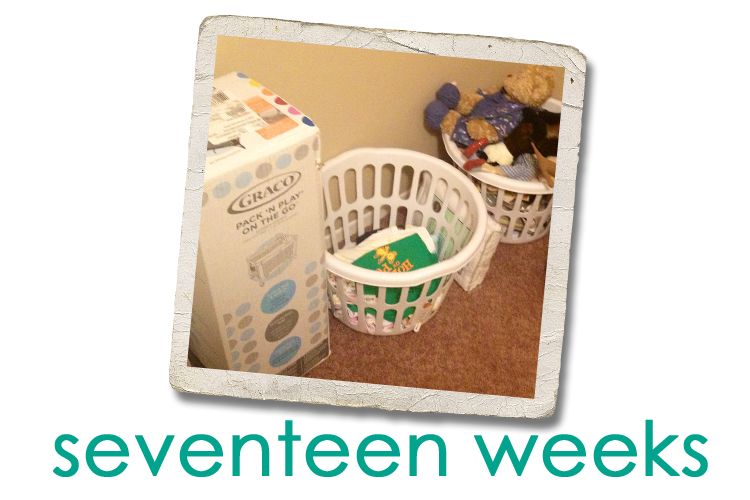 Dear Baby,
We are into the fifth month and I feel like time is flying by. Before we know it, the nursery will be cleaned out and prepared. Actually, I'm kind of hoping I can shut my eyes, click my heels and it will all be done. There is a lot to do, it seems.
We've started collecting your things in baskets in the corner of your soon-to-be nursery. We've got a basket for your not-girly-and-not-boyish onesies, a basket for small gifts we've already received, and a Pack 'N Play from your grandmother's cousin. It's exciting to catch a glimpse of it all every now and then.
I had a check-up appointment this week and everything is perfect. My blood work, your positioning, my weight, your heartbeat - it is all good. It's always reassuring to go into those appointments and hear that news. Just hearing your heartbeat settles my own heart quite a bit.
They are still unsure as to why I am feeling so lightheaded still when I eat like it's my second job (which, I suppose, it is). They encouraged me to find more sources of protein, such as nuts, so your dad bought me a bulk-sized jar of cashews from Costco. I am pretty sure there are enough to last me well until your first birthday.
I haven't had any particular, outlandish cravings. The only aversion I've had is to meat that isn't cut up into pieces. This started early on in my pregnancy and is still lingering. However, strawberry slushies from Sonic have become my go-to relief when I am off to the grocery store to ward of any nausea and dizziness. Fortunately, though, your dad has been kind enough to come along with me from now on to push the cart and make the trip go by much faster.
We have scheduled another ultrasound for you next week and I am so eager for that appointment. I can only imagine how vastly different you may look compared to the last time we saw you at thirteen weeks. Even then, you looked so developed, but after another month of growing and doubling in size, I'm sure we will be shocked. We could also find out if you're a boy or a girl at this appointment, but as you know, your spontaneous father is encouraging it to be a surprise. I'm going along with it, but you'll soon find out I am not spontaneous or a fan of surprises.
Fortunately, this surprise will be perfect either way.