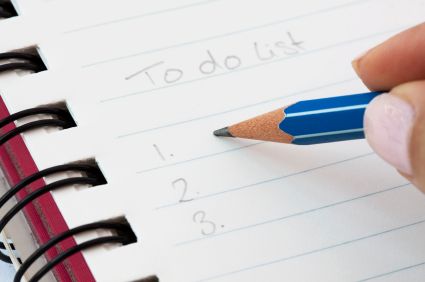 I've been looking forward to this coming weekend for a couple of months now.
Not only is it a three-day weekend for both me and my husband, but it's also the first weekend in at least the last eight weekends straight where there is literally nothing obligatory on our calendars. Nothing. No work commitments. No dinner plans with friends. No going out of town or hosting out-of-towners.
And I am looking forward to it.
The weekends following include going out of town for the holidays and work commitments all ringing us into the new year. While we have the weekend off, we are planning on being as productive as possible - together.
My planner's heart wants to have the nursery space existent and somewhat filled by January. I want to spend the first two months of the year filling in the gaps, decorating the space and enjoying the last stretch of pregnancy.
With this, we have some to-do's on our list for the weekend. We'll be clearing out the old office once and for all. We'll be creating a better filing system since we will no longer have an office space. We'll be moving the guest room into the old office. We'll be moving all of the baby things into the nursery (which is taking the guest room's place, which is taking the old office's place).
And by we, I mean that I will be supervising Chris as he does the heavy lifting.
We'll also be simplifying our home and purging anything that will be of better use in a garage sale in December.
I'm looking forward to ending the long weekend with a clearer vision of what's to come. I want to walk into the nursery space and see exactly what it will soon be.
Because it will soon be here before we know it.