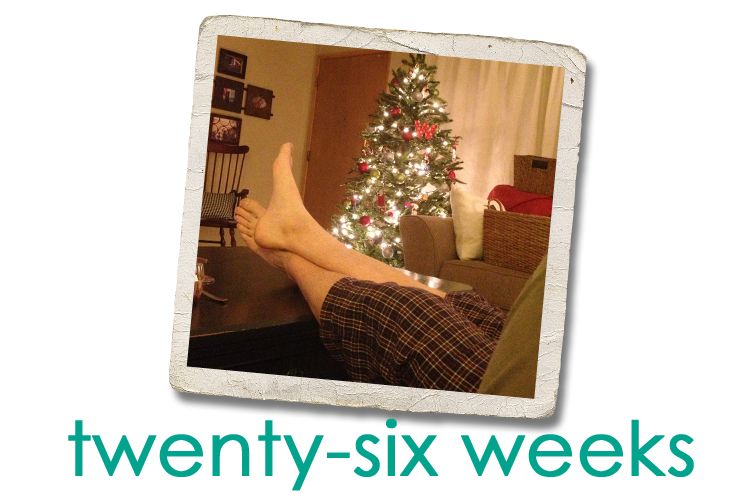 Dear Baby,
You've made yourself much more present this week and I feel like you've doubled in size. I can now tell which side of my belly you're making yourself comfortable (which sometimes means I'm not so comfortable). Forgive my nudges here and there.
Your kicks are becoming much more forceful; you're letting us know you're definitely there. The other night, I had a terrible headache and decided to go to bed early. You've taught me to just rest when my body is screaming for rest, so to bed I went. As I was nestled under the covers, the right side of my belly became hard as rock. I put my hand up against you and felt your round head right up on my side. I kept my hand there and fell asleep.
Unfortunately, my ribs have taken a beating this week. My back has been aching and it's all I can do to not spread myself out on the floor in my office in an attempt for relief. I've had nerve pain in my right leg that shoots up my back if I stand too long, so needless to say, I've taken advantage of lounging around the couch with my feet in your dad's lap. He's the first to tell me to just sit down, and I'm thankful for his prodding. (We all know I overdo it sometimes.)
Since we decorated for Christmas this last weekend, I get a spirited view from my lounging spot on the couch. As we donned the tree with ornaments new and old, I couldn't help but think how you'll be here for next Christmas. I look forward to seeing how our decorations, traditions and excitement will change as we plug you into our little family.
We're working hard to prepare for that day.
Love,
Your Mama
Weekly Letters: 3 & 4 | 5 & 6 | 7 | 8 | 10 | 11 | 12 | 13 | 14 | 15 | 16 | 17 | 18 |
19
|
20
| 21 | 22 | 23 | 24 | 25