Back in 2009, I decided to compile a list of the the daily, small moments of grace I noticed in my everyday routine. I did this for a year, and in that year, I learned about myself and what I deserved, I let things go that I didn't need crowding my life, I met a boy, I became engaged to that boy and then I started planning a wedding.
By January of 2010, I had collected a list of 1,825 graces. And there were so many more that went undocumented.
Writing these words out was a daily reminder to me of the grace I was shown in my life day in and day out. After seeing the turn my life took in a year, I found that when I stopped to reflect on the blessings in my life, and truly valued and recognized each one, I received greater blessings than I could have ever imagined. I don't think for one second it's a coincidence.
Some were small, some were big, and some were even life-changing.
So, in 2013, I want to start reflecting on these daily graces once again. Come next Friday, I will start listing these blessings twenty-one at a time. I want you to join me.
Here's how it works:
Be in each day and think of three blessings.
By the end of the week, you will have twenty-one graces to share.
Come here each Friday morning and link up your list.
They can be small - the first cup of coffee in the morning, fresh flowers, a cuddly dog - or big - a new-found friendship, finally finding peace, being healed.
Just be in each day and they will come. I hope to see you next Friday.
(Use this button on your post!)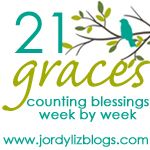 Let's count our blessings in 2013.