Staying cozy in the warm house with a rented movie.
A quiet morning with coffee and an editing project.
My husband safely finishing a 100-mile bike ride...
...and still showing up unexpectedly to our birth class so he could at least make part of it.
Falling asleep right away.
Blog comments that inspire me.
An extra productive day at work.
Receiving a battery for my watch at no charge thanks to generous customer service from a competing brand.
A stretch of cold weather as a break from the typical warm desert temperatures.
Late night cereal.
Passing my prenatal check-up.
Knowing Baby is already head down.
A perfect, healthy baby heartbeat.
Having a doctor who comes in, sits down, and treats me like I'm the only appointment she has all day.
Getting back to Bible study after a holiday hiatus.
Finishing another editing project.
Pajamas.
Soy ice cream to satisfy my dairy allergy.
Having a co-worker who saves all of her coupons for me.
A new rug under our feet.
Having a calm-tempered husband.
---
Now it's your turn:
Be in each day and think of three blessings.

By the end of the week, you will have twenty-one graces to share.

Come here each Friday morning and link up your list. Make sure to visit others to see what blessings they found.
(Use this button in your post!)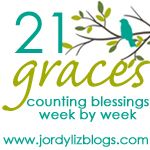 Link up below!