Seeing the nursery finally come to life.
Filling up drawers with tiny baby clothes and soft blankets.
A mowed yard.
Listening to my husband play the drums at church.
Dinner with a thoughtful and supportive mother-in-law.
An extremely productive weekend.
Having Monday off work.
Brunch with girlfriends.
Starting the work week with a clean house.
Going to bed early.
The smell of unexpected rain.
The dealership replacing my flat tire for free.
An impromptu phone call that led to a much-needed conversation from a very good friend.
Having a tough day and letting myself put the to-do list aside for the evening.
Strong, healthy, baby somersaults.
Laughing with co-workers.
Decaf coffee.
An empty sink with no dirty dishes.
Clean sheets to climb into at night.
The anticipation of family coming to visit.
Compliments.
---
Now it's your turn:
Be in each day and think of three blessings.

By the end of the week, you will have twenty-one graces to share.

Come here each Friday morning and link up your list. Make sure to visit others to see what blessings they found.
(Use this button in your post!)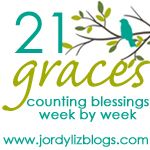 Link up below!