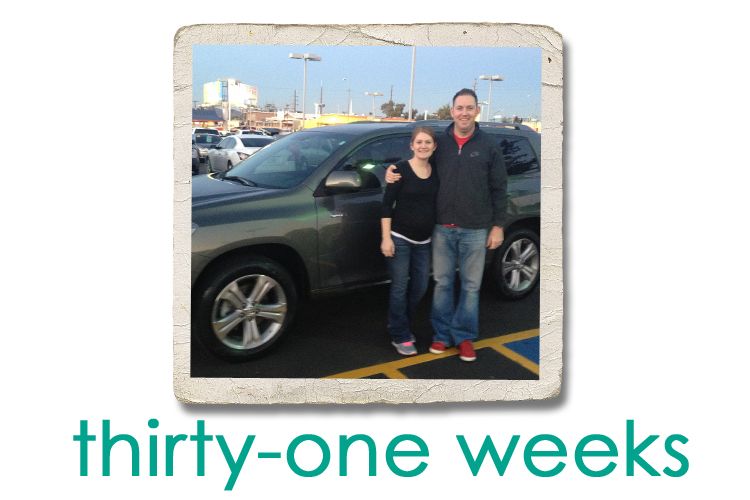 We've got a little over eight weeks to go and you are becoming more and more real by the minute.
We have been talking for a while now about getting a more family-friendly car. We both have pretty small cars, and after testing out your carseat in the parking lot of Babies 'R Us, I was not comfortable whatsoever taking you home crammed in the backseat while we were in the front with our seats pulled all the way up (and your dad promising he was completely comfortable sitting straight up with his knees all up under the steering wheel). This sped up our conversation about a different car and so I began researching cars and prices. After spending five hours at a dealership on Saturday, we drove away in a used-but-new-to-us family-friendly car that we can easily grow into down the road. My mama heart is a little more settled now and I can't wait to bring you home in it.
My changing body and your love for my right hip has kept me up the last few nights. I go to bed extremely tired, only to lie there for hours on end. I've stopped looking at the clock because I don't want to know how little sleep I'm actually getting. I venture to say it's an average of three to four hours a night. I see many more naps in our future.
Aside from the onset of insomnia, I've realized I'm in the stage where I need to slow back down. I went to the grocery store by myself the other day for the first time in months. I barely made it to the grocery check-out before I felt the rush of exhaustion, a backache and dizziness. I am always forgetting how much energy you take and how sometimes rest - and asking for help - is the best thing to do.
Speaking of forgetting, I've been forgetting everything lately. If I don't do something right then or write it down, it's gone forever. I called your dad with a list I made on a post-it note just so I wouldn't forget the many minor, random tidbits I needed to tell him.
Your movements continue to stop me in my tracks and I can't wait to hold those arms and legs that are making themselves extra comfortable. I know your patterns now and I look forward to seeing how they match up with your real life patterns of sleeping and being awake. I feel closer to you each passing week as you get bigger and bigger.
We're anxiously waiting for you to be in our arms.
Weekly Letters:
3 & 4 | 5 & 6 | 7 | 8 | 10 | 11 | 12 | 13 | 14
15 | 16 | 17 | 18 |
19
|
20
| 21 | 22 | 23 | 24 | 25 | 26 | 27
28 | 29 | 30