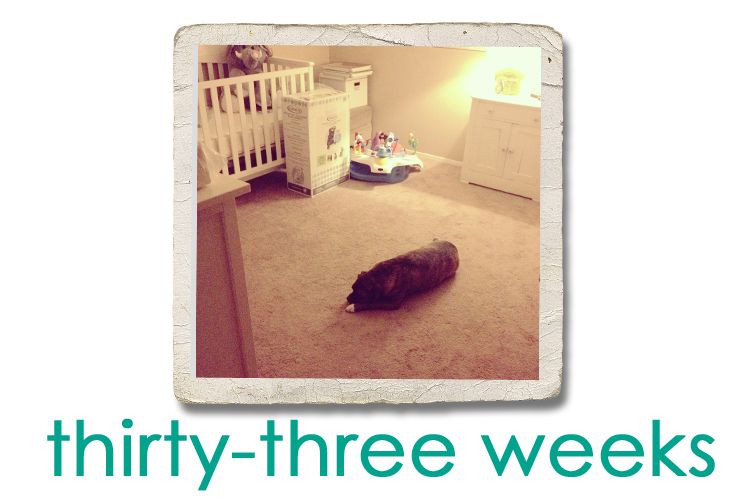 Dear Baby,
I can't imagine you getting any bigger (or, really, my stomach getting any bigger), but you still have a few pounds to gain.
Your movements have started to stop me in my tracks as you stretch from head to toe, extending across my entire torso. I've also started experiencing Braxton Hicks contractions and my entire belly tightens up for a good twenty seconds. All I can do is sit there and wait for it to pass. It's not painful, but it definitely reminds me just how big you're getting.
We finished all of the big items in the nursery this past weekend. Knowing it's almost done has been a huge relief. I love walking into the room and seeing everything in place - the crib, the dresser, the bookshelf, the end table. Just a few more finishing touches are needed and we'll have your room all ready to go.
When we had completed the nursery, I left the door open as we worked our way around the house to get other chores done. Your sister-dog, Mia, roamed to the back of the house. Assuming she was inspecting every nook and cranny (including the stuffed animals that were at just the right height for her), I peeked into the room. She was stretched out on the floor and stayed that way for a good twenty minutes, not touching a thing. I think she knows all about you and I can't wait for you to meet her. She is already looking forward to you.
Sleeping has been much harder this week. I'm up several times a night to use the restroom, to get into a more comfortable position, or to strip off the covers because I'm burning up. Between those three wake-up calls, sleep is starting to become more infrequent, which I know is just a precursor of what's to come.
My sweet friends are throwing me a shower for you this coming weekend. I can't wait to celebrate you with family and friends as we are all anxiously awaiting your arrival.
Just six weeks to go and I can hardly believe it.
Weekly Letters:
3 & 4 | 5 & 6 | 7 | 8 | 10 | 11 | 12 | 13 | 14
15 | 16 | 17 | 18 |
19
|
20
| 21 | 22 | 23 | 24 | 25 | 26 | 27
28 | 29 | 30 | 31 | 32