It's the first official link-up for
21 Graces
! For an introduction,
visit this post
.
Basically,
I want to start reflecting on the daily graces in my life and
I want you to join me.
Here we go.
A new year that comes with a fresh beginning.

Baby kicks.

Negotiating a car deal and feeling like we were fairly and kindly treated.

Car insurance going down.

Not setting an alarm and sleeping 'til our bodies say it's time to wake up.

Attending a birth class that is informative, Christ-centered and comforting.

Middle of the night conversations with my husband when my pregnancy insomnia is wide awake.

Gathering with girlfriends for a Sunday night of snacks and a show.

My husband faithfully pulling my car in and out of the manual garage to avoid a cold car in the morning.

An afternoon nap and a full night of sleep after two nights of no sleep.

Fully expecting to come home and tackle the kitchen only to find it completely spotless.

Dark chocolate with sea salt.

Starting to receive generous baby gifts at my front door.

Arizona sunsets.

Working in a Christian environment.

A fresh haircut (after more months than I care to admit).

Reaping tangible blessings from diligent work.

A quiet date at Barnes & Noble with just me, Baby, books and a decaf latte.

The fact that our Christmas tree is still lighting up our living room.

Homemade cookies.

A loyal dog.
---
Now it's your turn:
Be in each day and think of three blessings.

By the end of the week, you will have twenty-one graces to share.

Come here each Friday morning and link up your list. Make sure to visit others to see what blessings they found.
(Use this button in your post!)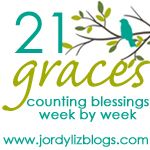 Link up below!