My mom and sister coming into town for the weekend.
My mom's best friend also coming into town as an added bonus.
The much-needed rain.
Freshly painted nails.
Early mornings with my mom.
Coming home to an emptied dishwasher twice courtesy of my mom and sister.
The fact that we were all together at the news of my grandmother's passing.
Trusting God's timing is good and right.
Feeling at peace regardless of the circumstances and timing.
Being blessed by friends at my baby shower.
Having a friend like Jen to coordinate the details, decor and all of the special parts of my shower.
Looking at my baby book with my mom.
A nursery that is almost complete.
Freshly washed baby blankets.
Car rides with our dog.
An after-work nap...
...with a dog who curls up next to me.
Preparedness.
Surprise gifts in the mail from friends.
Comfy, stretchy leggings.
Jeans day at work.
---
Now it's your turn:
Be in each day and think of three blessings.

By the end of the week, you will have twenty-one graces to share.

Come here each Friday morning and link up your list. Make sure to visit others to see what blessings they found.
(Use this button in your post!)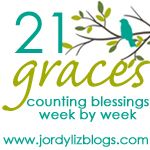 Link up below!