For an introduction to 21 Graces,
visit this post
.
It's never too late to jump on in!
Kettle corn.
Inexpensive date nights that are just as good (and maybe even better).
A clean dog (even after the fiasco).
BOGO Starbucks all week long.
Skipping the blow dryer and letting my hair air dry.
All of the baby items being out of boxes and officially set up.
Donuts for breakfast.
A impromptu Sunday afternoon nap on the couch.
Seeing snow on distant mountains.
Getting a sneak peek at our baby through an ultrasound.
Seeing its squished face, knowing we'll see it in person in just a few weeks.
Efficient doctor visits.
Breakfast on the go.
Having Chris tag along on morning appointments.
Hand-me-downs.
Cupcakes.
Health insurance.
Flowers hand-delivered by my Valentine.
Parents that still play Cupid.
A date night out with great conversation and no rush to get home.
Nesting urges that make for a clean house.
---
Now it's your turn:
Be in each day and think of three blessings.

By the end of the week, you will have twenty-one graces to share.

Come here each Friday morning and link up your list. Make sure to visit others to see what blessings they found.
(Use this button in your post!)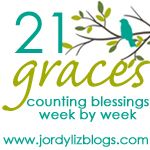 Link up below!