For an introduction to 21 Graces,
visit this post
.
It's never too late to jump on in!
Receiving lots of diapers from Chris' "man" shower.
Getting a prenatal massage.
Communion.
Attending our last birth class after an eight-week run and feeling ready and informed.
Having a long, open conversation at the dinner table about our future.
Knowing change is coming, but knowing we'll be able to handle it.
Saving over $100 on the grocery bill by using coupons.
Crossing things off the to do list.
Crisp mornings.
Warm afternoons.
Finding out through my weekly appointment that Baby is progressing.
An encouraging phone call with Casey.
Finishing an editing project earlier than expected.
Productive evenings.
Chris opting to get up in the middle of the night to handle the sick dog.
Having all baby items washed and ready.
Hot chocolate.
An afternoon nap in between work duties.
Chris' willingness to build all of the baby items.
Buying fresh, new pajamas to live in after Baby comes.
An open calendar.
---
Now it's your turn:
Be in each day and think of three blessings.

By the end of the week, you will have twenty-one graces to share.

Come here each Friday morning and link up your list. Make sure to visit others to see what blessings they found.
(Use this button in your post!)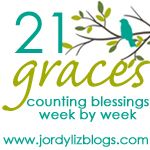 Link up below!