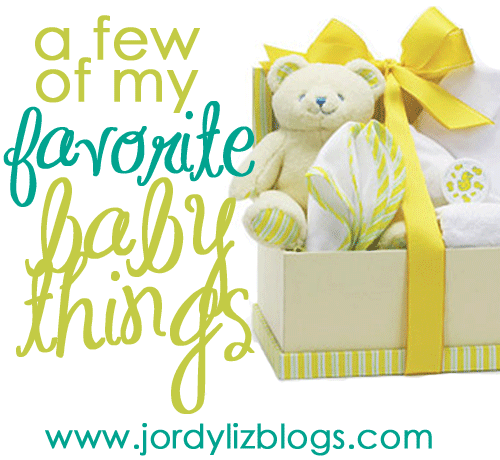 When we registered for our new baby, it was pretty overwhelming. There were so many items to choose from and so many options for each of those items. What did we need? How were we supposed to know if it was the best choice? I sought out the advice from friends, registered, and was blessed with many great things for Liam.
After almost two months of trying them all out, here are my favorites (and what I consider must-haves). I've included the links to Target, Babies R Us, BuyBuyBaby and Amazon so you can easily add them to your registry if you see something you like!
Fisher-Price Bouncer
I use this bouncer daily. We keep it downstairs in the living room and it's a great spot to put the baby in when they need to go down for a short nap or you just need a place to put them so you can have your hands free for a minute. It's light, portable and never missed a day of work for the first month of our baby's life.
Target | Babies R Us | BuyBuyBaby | Amazon
Graco Click Connect 40 Carseat and FastAction Fold Sport Click Connect Stroller
This carseat and stroller are the newest duo in Graco's line. The carseat goes up to 40 pounds or two years, and since our six-week old is already at 12 pounds, I'm sure we'll hit its limit well before he's two. It will save us from having to buy a bigger carseat right away compared to the 30 and 35 pound options.
I can't say enough about this stroller. When we were shopping around, we wanted a stroller that could do it all: go on walks, run errands, travel easily and grow with our baby. We didn't want to have to buy multiple strollers for different functions. The stroller is extremely light and I can unfold it with one hand. Likewise, I can fold it up and throw it in the trunk with one hand (and I'm not strong). The carseat easily clicks into the stroller making it quick to go in and out of stores on a day of errands. Once he's big enough to sit up, there's a comfy spot waiting for him. The stroller actually fits all of Graco's Click Connect carseats in case you go for a different carseat option.
Carseat: Only sold at Babies R Us | Stroller: Only sold at Babies R Us
Tommie Tippee Bottles
We started out using different bottles, but our baby was having major spit-up issues. We were transitioning him from nursing to bottles and he was sucking down the bottles a little too fast. I called a lactation specialist and she recommended these bottles. I love the shape of them; even as a tiny baby, he can hold onto the sides. The nipple is slow-flow so we can manage how much he takes in a time. And they're too cute!
Target | Babies R Us | BuyBuyBaby (not sold) | Amazon
aden + anais Swaddle Blankets
These blankets have become a staple in our home and our kid doesn't even like swaddling. Living in a very hot climate, I love how lightweight these blankets are. They are also quite large which is great for laying out on the floor or bundling them up. I often use them to cover up his carseat if I am out running errands. If I could do it all over again, I would only register for these kind of blankets. I would suggest getting at least two packs (eight total) as they are targets for spit-up and wet diapers!
Target | Babies R Us | BuyBuyBaby | Amazon
WubbaNub Pacifier
I didn't even know about these until I received two of them at my baby shower. I love them. The stuffed animal at the end (and there are many animals to choose from) keeps the pacifier in the baby's mouth a little better than if the pacifier was just flying solo. They can also hold onto the animal which is pretty cute. For parents, it makes the pacifier much easier to find and we are often yelling out, "Where's his elephant?"
Target (not sold) | Babies R Us | BuyBuyBaby | Amazon
The First Year Newborn-to-Toddler Tub
This is a basic tub, but that's what makes it great. It comes with a newborn sling which our son grew out of at about five weeks (or 11 pounds). He can easily sit up in it now due to the grooves at the bottom. It's lightweight, fairly inexpensive and fits on top of counters or in the bathtub.
Target | Babies R Us | BuyBuyBaby (similar) | Amazon
Brica Backseat Mirror
I love being able to check on what the baby's doing through my rearview mirror. I can see if he's asleep (as he often falls asleep as soon as he gets in his carseat) or if he's crying, I can see what may be the culprit. Now that he's more alert, he stares at the little baby in the mirror, too!
Target | Babies R Us | BuyBuyBaby | Amazon
Boon Grass Countertop Drying Rack
You've got to dry your bottles somehow, so why not make it cute? This sits on top of our counter and is much prettier than a dish towel. You can also purchase "branches" and "flowers" to add to it which are great for drying nipples and bottle accessories. This size fits a maximum of eight bottles. If I was doing it all over again, I would get the "lawn" size which is bigger.
Target | Babies R Us | BuyBuyBaby (only sold in white) | Amazon
Cloud B Sleep Sheep
I also didn't register for this, but received it as a gift. This sheep now lives wherever our baby sleeps. When we go to put him down, we turn the sheep on and its relaxing noises lull him to sleep. We might not have survived the first three weeks without it!
Target | Babies R Us | BuyBuyBaby (similar) | Amazon
Summer Infant Video Monitor
I love being able to check on what the baby's doing without stealthily creeping into his room. This video monitor is portable so we can bring it all over the house depending on what we're doing while he's asleep. It also has a nightlight feature I've grown to love: I can turn on the nightlight attached to the camera before I go into his room which means I don't have to turn on a bright lamp or overhead light.
Target | Babies R Us | BuyBuyBaby | Amazon
Changing Pad Liners
We purchased a precious changing pad cover only to realize how often we had to wash it. A friend bought these liners for us and they make changing so much easier! If the mess doesn't all stay in the diaper, you just throw the liner in the laundry basket and get a new one without having to take the entire changing pad cover on and off each time.
Target | Babies R Us | BuyBuyBaby | Amazon
(These are all based off of my own personal opinion.)
What are your must-have baby items?