Our poor dog Mia has become lost in the shuffle of the last few months. Used to being the center of attention and the main subject of my Instagram feed, she now sits back and watches us carry her brother to and fro, and stares at us as in, "So, is this thing permanent or what?"
Sometimes Chris will get home late and ask if I fed the dog. "Oops. Not yet. But I did feed the baby." Which I think is an accomplishment in itself some days. Our
sweet dog has moved down on the priority list, but I have to give her a lot of credit.
This mutt of ours is the sweetest, most protective, kindest animal friend our baby boy can have. Known for not barking - ever - the first time someone came over to visit Liam, the dog barked. She spoke! And now anytime someone approaches our door, a muffled bark comes out of her snout. It still surprises me every time.
Our evening routine of a bath and bottle in Liam's nursery is supervised by Mia. As I'm getting Liam ready for his bath, I hear her paws clicking in the hallway. She comes and settles herself right in front of his bathroom door and waits. She waits through bath time. She waits through pajama time. She waits through bottle time. And then when I shut off his light and walk out of his room, I have to whisper to her to follow me downstairs. She would stay there all night if I let her.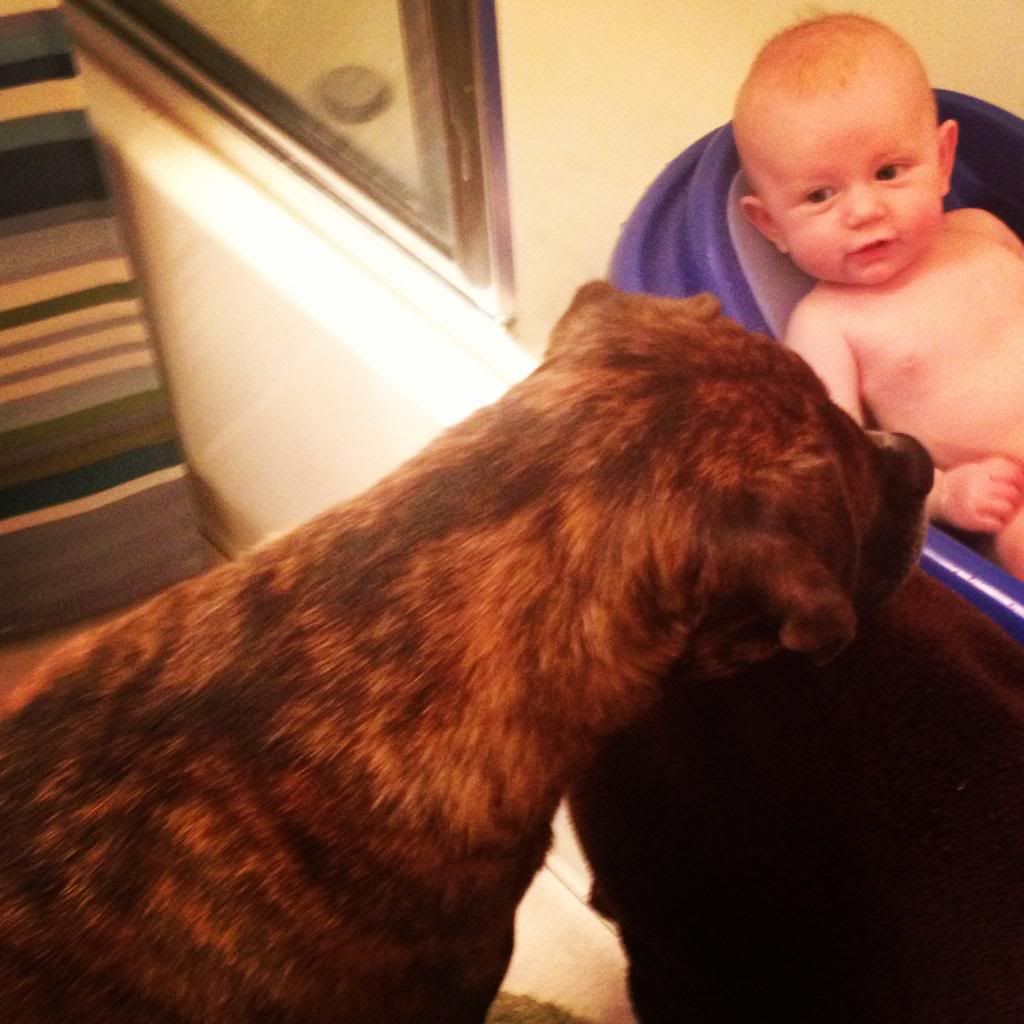 The best part has been watching Liam start to recognize and react to her. A smile creeps on his face when he sees her big, brown body and tail roam by. He looks her in the eyes for just a second before she smothers him with kisses for just a second before I let her know that one kiss is more than enough.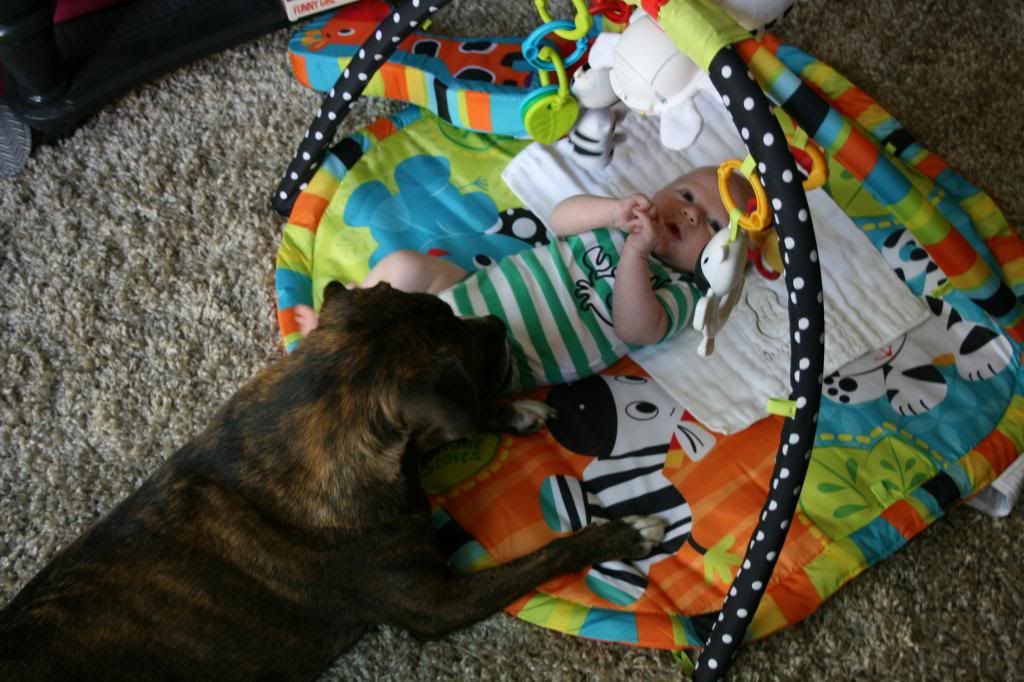 We adopted Mia in a spontaneous-rescue-dog decision while we were engaged. While it wasn't the ideal time to get a dog, the alternative of where she would end up was too much to bear. So we became dog owners.
In our pre-baby years of marriage, she taught us that we can't stay out as late as we want when there's a dog at home needing to go out. We can't get away for the weekend without planning ahead. We have to drop what we're doing for an emergency vet visit. We're responsible for picking up after her messes and dirty deeds. We have to somehow just figure out what she wants because she can't speak for herself. And we have to be patient, loving and attentive, always.
Wouldn't you know, that's a lot of things you learn with a baby, too.
I can't wait to see these two grow into real friends and playmates.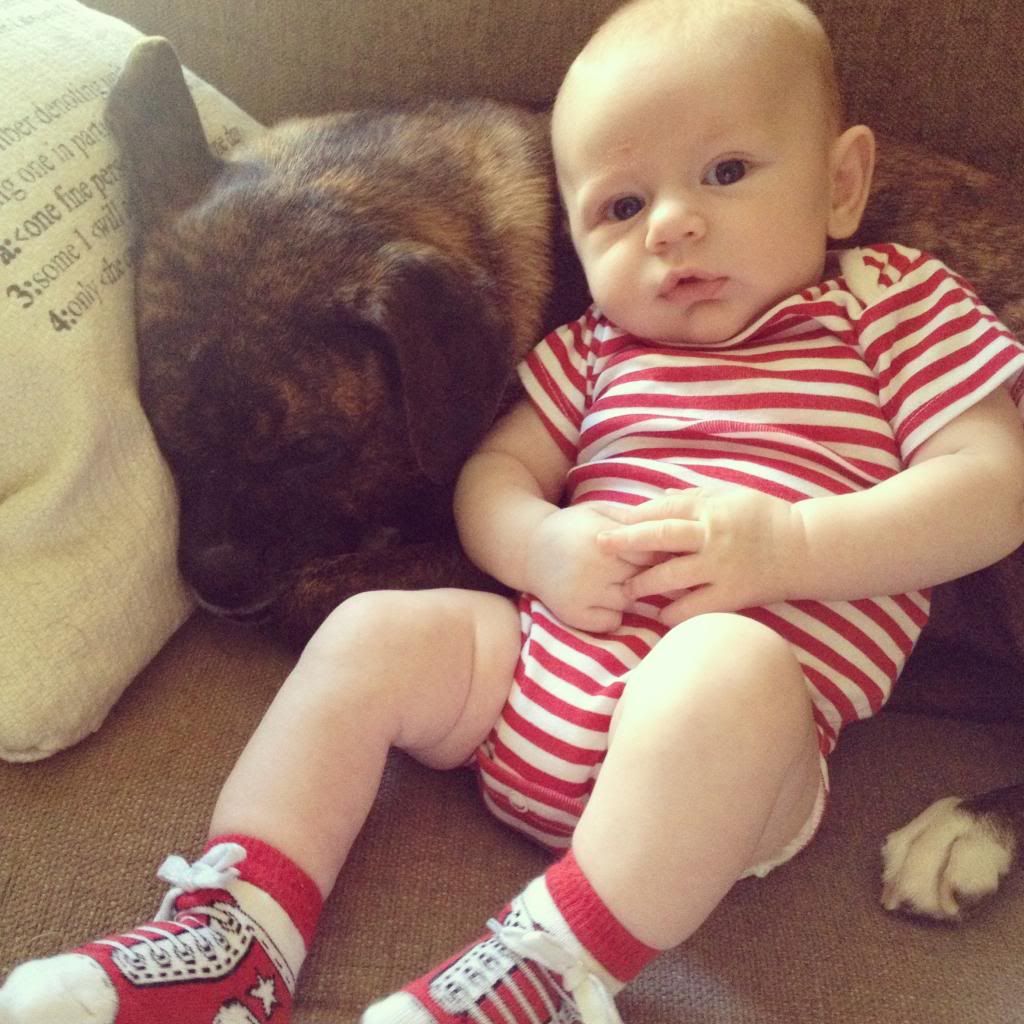 And yes, Mia, he's permanent.