We took Liam to the cliche we-have-a-baby-and-must-get-
his-pictures-with-pumpkins pumpkin patch this weekend.
We intended to go last weekend. We had our Sunday afternoon planned: church, lunch and then it's off to the pumpkin patch. When we got in the car, Chris asked for directions and I told him it was about thirty minutes north.
"Thirty minutes?" he questioned. I, being from Houston, an extremely spread out city, think nothing of a thirty-minute trip. (It takes at least thirty minutes to get anywhere.) My husband, being from Phoenix, a fairly compact city, thinks a thirty-minute trip is twenty-nine minutes too long. So I said we didn't have to go. And he said we were going. And we went back and forth and back and forth and we got on the freeway and we were off.
We drove the long thirty minutes all the way north of the city and took the exit. After a few miles down the road, we saw the pumpkin people greeting us. We pulled in and tried to find a parking spot. There was no parking. So we kept looking, but saw a line to get in about 100 people deep. We looked at each other. And we looked back at our baby. And we determined that no pumpkin patch is worth shoving through crowds under the hot sun with a baby who has about an hour of happy left in him.
Even if it was a trek to get up there.
So we left, grabbed a drink and appetizer at a restaurant, and found great deals at Old Navy.
Fast forward to this Sunday. We were determined to try again, but this time, we would get there bright and early before the crowds. And we did it. We got there, we created our own parking spot, we barely waited in line, we avoided the crowds, and Liam - our morning baby - was happy, happy, happy.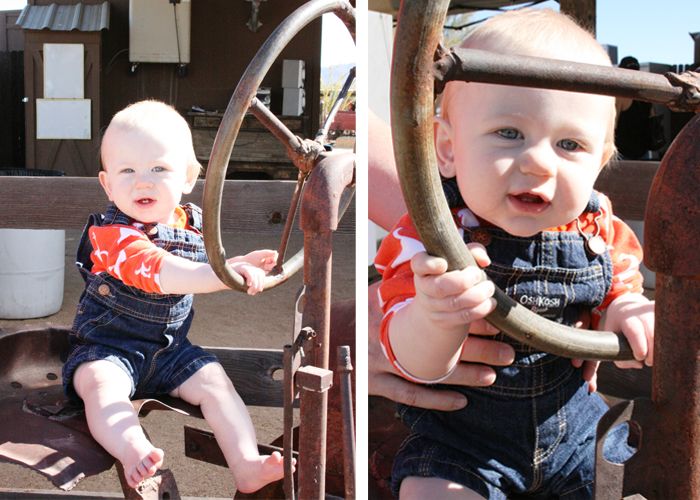 He kicked goats at the petting zoo.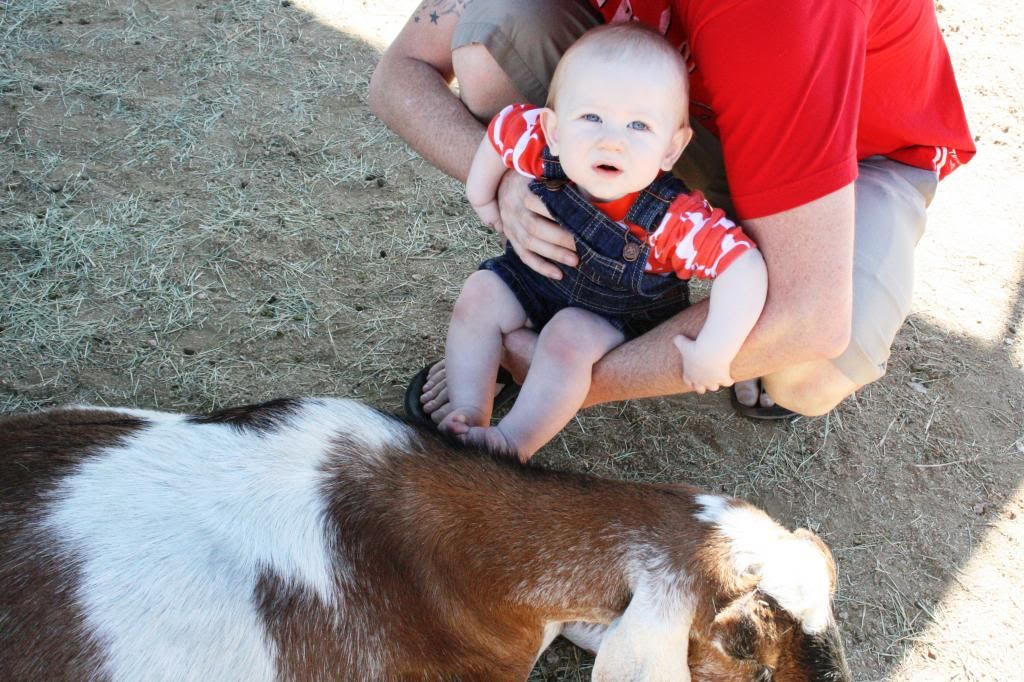 He stared into the glaring sun for photo opps.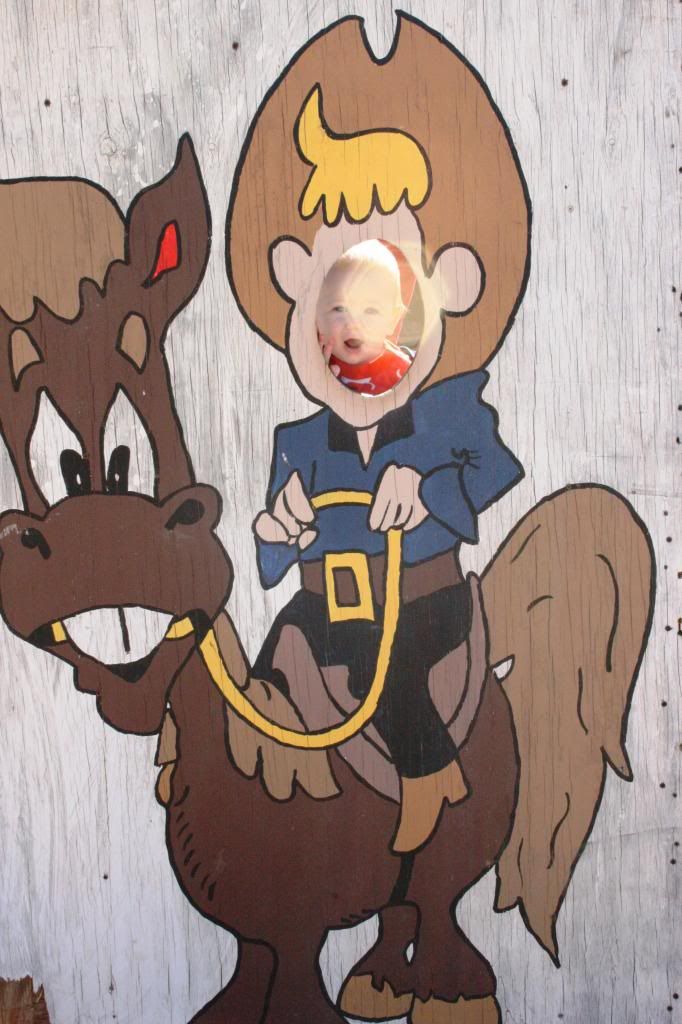 He rode the bumpy train to the pumpkin patch.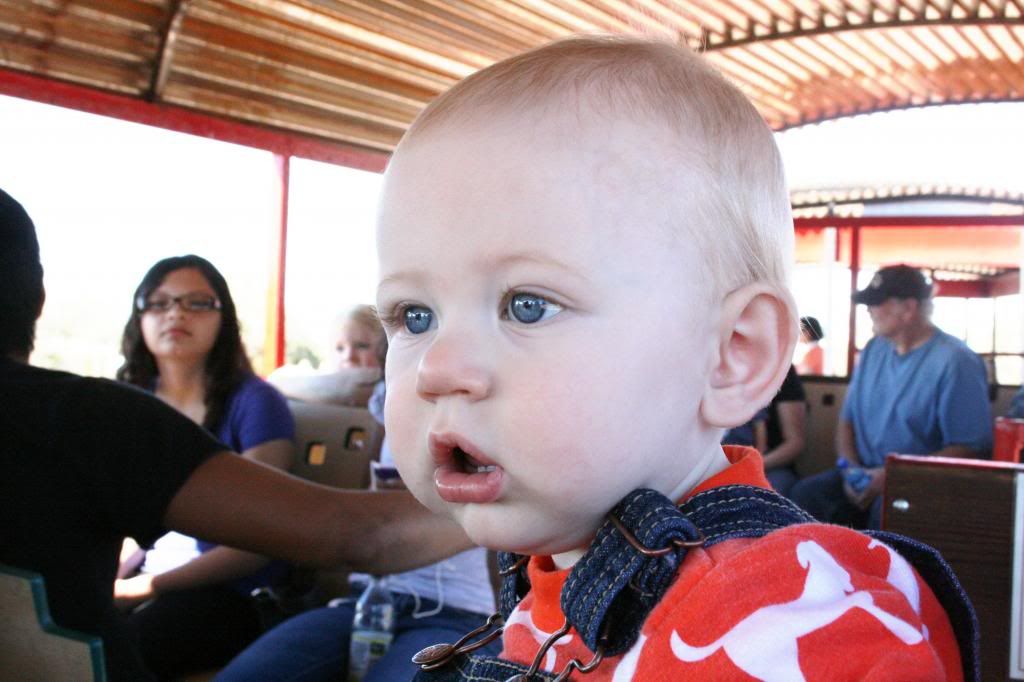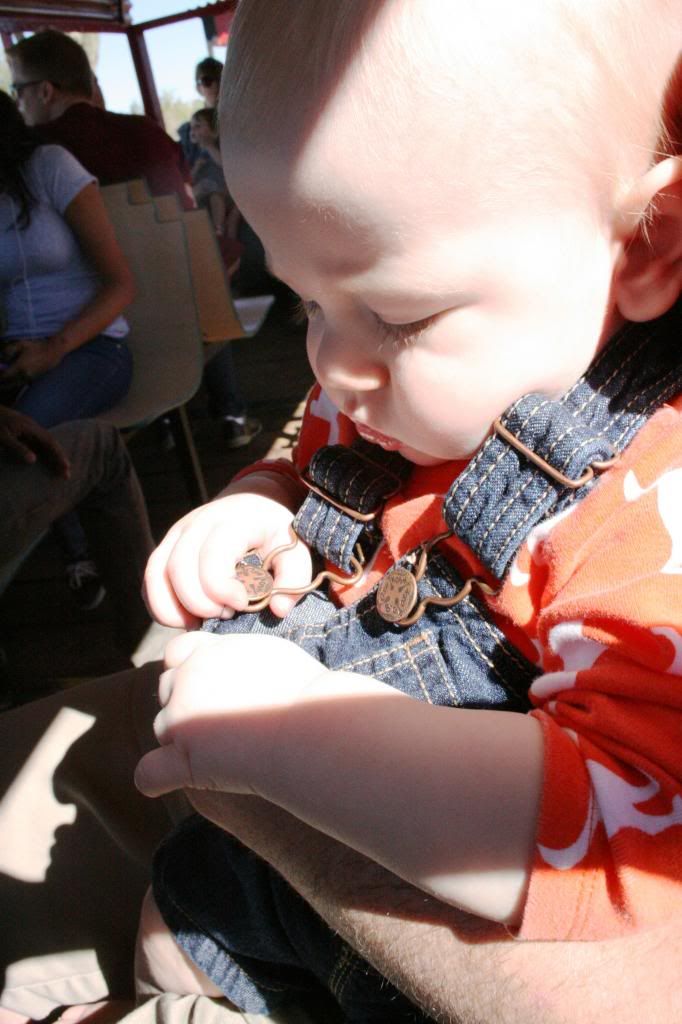 And I finally got his picture with pumpkins which was so worth the cost of the Groupon, plus some.
(We also bought a tiny $4 pumpkin because how could we not?)