(This post is technically 10 days late. I had the letter ready for over a week, but as you'll see by the last photo, the monthly picture took a few days longer than normal.)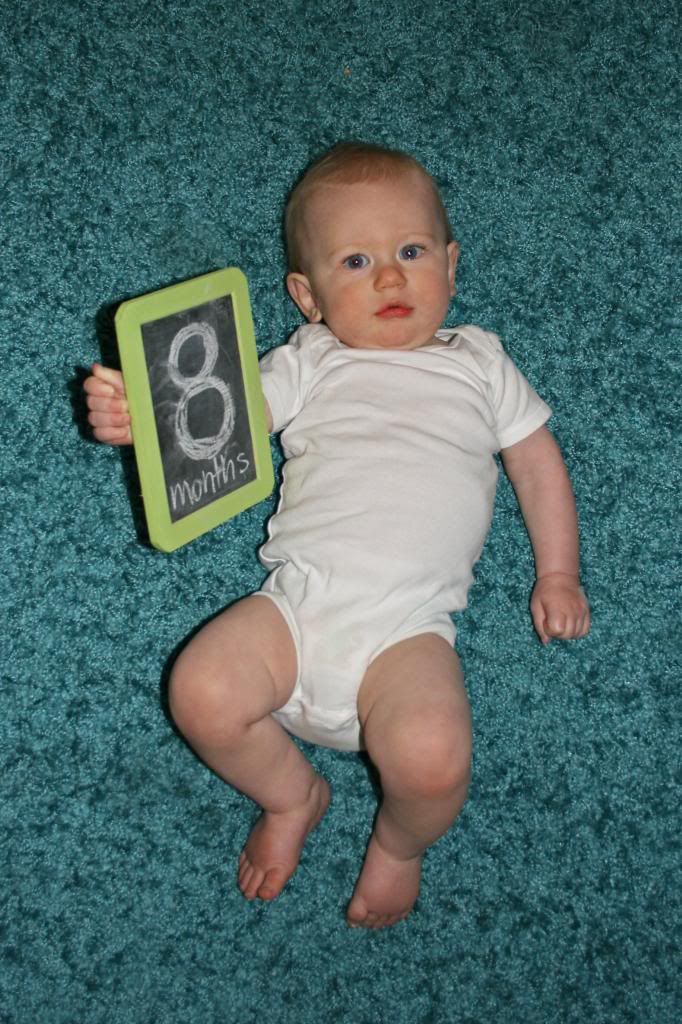 Dear Liam,
You are eight months old. This last month has been full of you fine-tuning your ever-growing personality and keeping up with your speediness.
Oh, the speediness. Have I mentioned before that you never stop moving? Yes, I have. A thousand times. Unless you're sleeping or strapped in somewhere, you don't sit still. You're crawling at a runner's pace, pulling up to stand on absolutely everything - the coffee table, rocking chair, bench, bookshelf, dog - and have often tried to stand with no hands. Unfortunately for you, this only lasts a few seconds.
It's all incredibly exhausting as we are constantly saying stop, no, not that, come over here, leave that alone. And at the same time, it's incredibly fun to see you explore and find new things. (Such as Mia's toy bone. You find it in her kennel every day.)
You have a very go-with-the-flow attitude and it doesn't take much to make you happy. This makes getting out and about with you so enjoyable because you just love being. You love sitting in a cart to run errands and take people in.
You are easygoing enough to let others hold you which makes my heart happy. I want other to share in you, too, so this has been a joy to see. Your face breaks out into a huge smile when you see your daycare teachers and when you see Juney on FaceTime and when either of us walk into the room.
You still love, love, love your dog. You crawl up to her and lay your entire body right on top, leaning your head into her side. I love watching her just take it, and if she's had enough, she just gets up and walks away. She's very sweet to you.
You really are a good baby and I know we are lucky to have you - a good eater and a good sleeper with a good demeanor. I'm soaking it in because I know that's not a given or a guarantee.
Thanks for being you, baby boy.
(And in case you think real life doesn't happen here...)