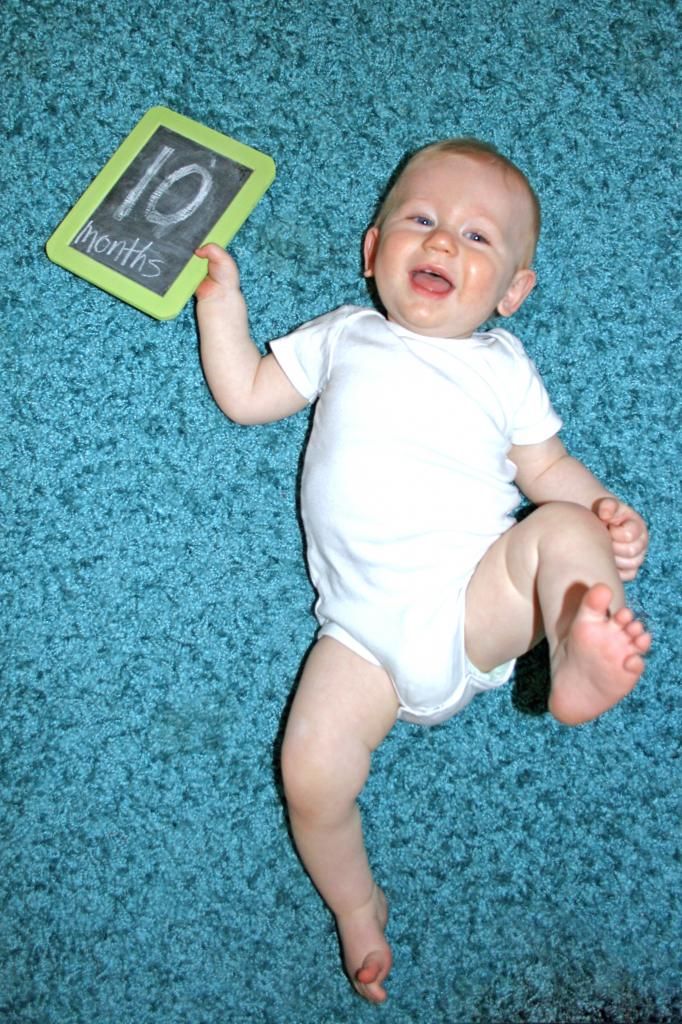 Growing: At ten months, he weighed 21 pounds 6 ounces. As far as length goes, he's still long and lean. After having two lonely teeth since five months, he busted out three top teeth just since Christmas with one more on the way!
Wearing: He's in 18-month onesies and growing out of all 12-month clothes. Each time I do his laundry, I put a handful of outgrown clothes aside. His pajamas are all 18-month, with a few 24-month scattered in. He's squeezing into size 3 diapers at home, only because we need to get rid of them, but we might have to give in and bump up to size 4.
Eating: He eats three meals a day with a snack in between lunch and dinner, and takes five bottles. He's eating all table food now which makes my life so much easier. (Goodbye, Baby Bullet!) His favorites are banana, cheerios, and macaroni and cheese.
Doing: He is officially taking big boy baths and loves playing with all of his toys in the tub. He's becoming much more interactive with his toys and I love seeing him figure out how they work. He's standing, cruising along furniture and becoming much more vocal (and opinionated).


Loving: He loves playing on the floor with his toys, finding Mia and grabbing her fur, and cruising around in the shopping cart.