Liam is inching towards the eleven-month mark, so I think we're ready for a nursery update, huh?
The nursery was all ready just before Liam was born in March. My mom came in town and hung the curtains. The art was perfectly in place. The furniture fit just right. My job was done well before the baby came. Then, in April, we up and moved when he was just one month old and we had to completely recreate the nursery space.
While it's a bigger room, it's a bit awkward. It's long and narrow, and three of the four walls are covered by doors and one window that literally takes up the entire wall. (Builders: bedrooms don't need a window that takes up an entire wall.)
Since April, we've managed to live with this awkward space, but it has never been quite right. The furniture didn't seem to flow and I always felt like it was unfinished. We were constantly tripping over the glider in the middle of the night and there wasn't a good spot for Liam to just sit and play. Finally, just a few weekends ago, I decided I was done with simply managing it and I was ready to enjoy it. We did some quick rearranging and it finally all fit. It finally, after ten months, felt finished.
Liam's nursery is full of blues and greens with an underlying elephant theme. When I was pregnant, we decided not to find out what the gender of the baby would be. I chose neutral colors and went with it. Once Liam was here and we found out we had a baby boy in our hands, I added more boyish touches, starting with the dark gray walls.
Here's his nursery with details galore. Just click on the links to see the product in more detail.
His crib is the central focus of the room. We recently moved it in between the bedroom door and bathroom door because there really was no other good place for it. A shelf is hanging above it with his newborn hat from the hospital and a couple of keepsakes from me and Chris.
Crib: Walmart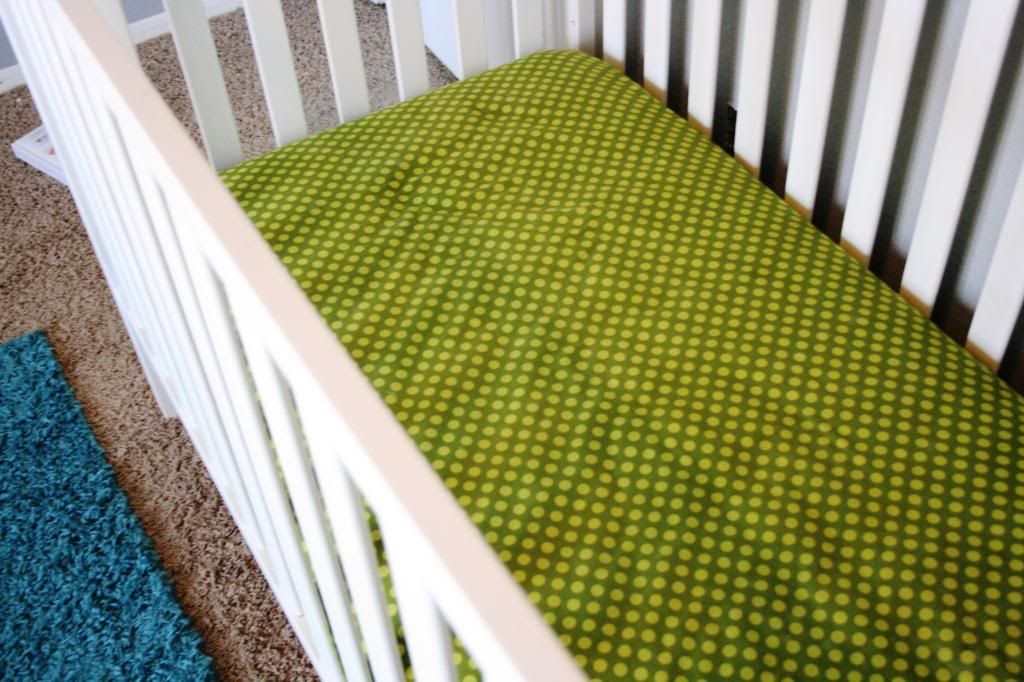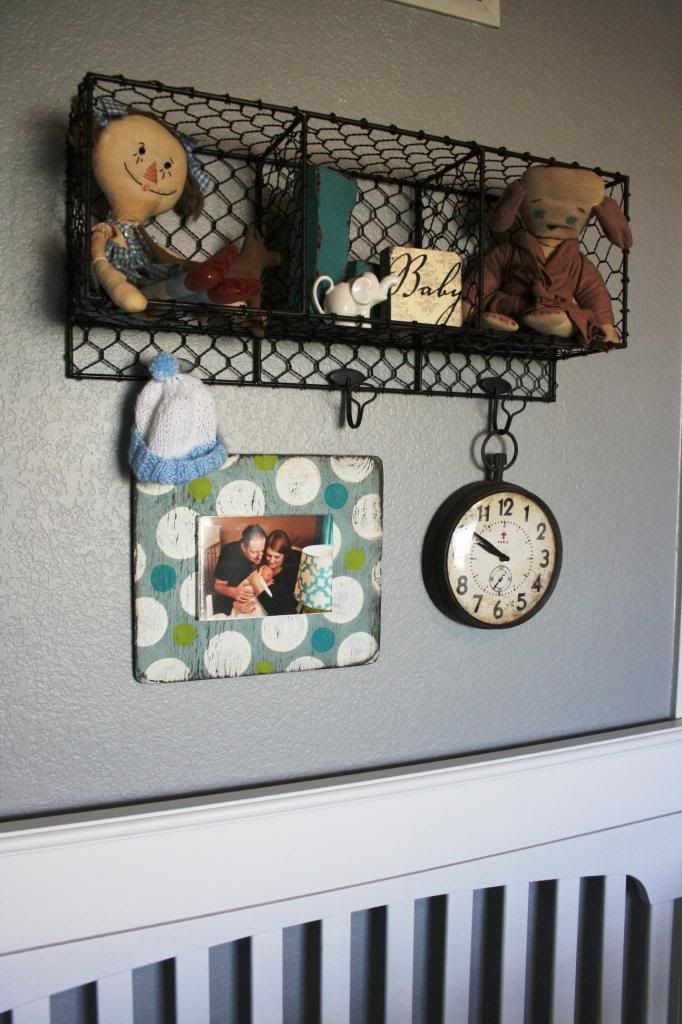 Shelf: Cost Plus World Market
Clock: Cost Plus World Market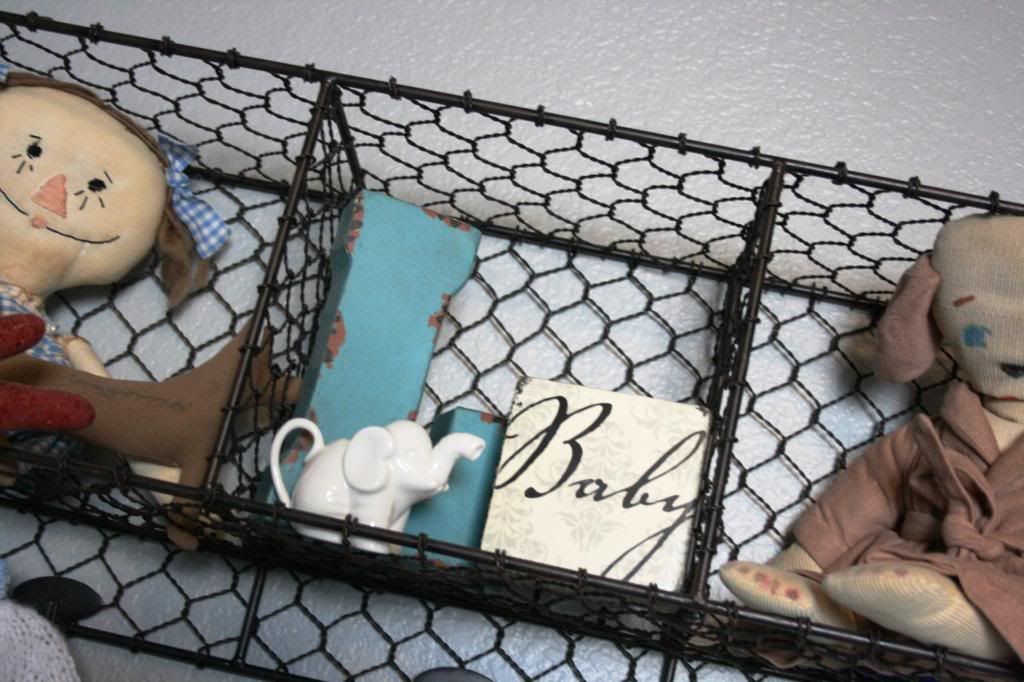 Letter "L": Hobby Lobby
On the opposite wall is a little reading area with the glider (and a quilt crocheted by Liam's talented aunt), a bookshelf, and a chair just for him.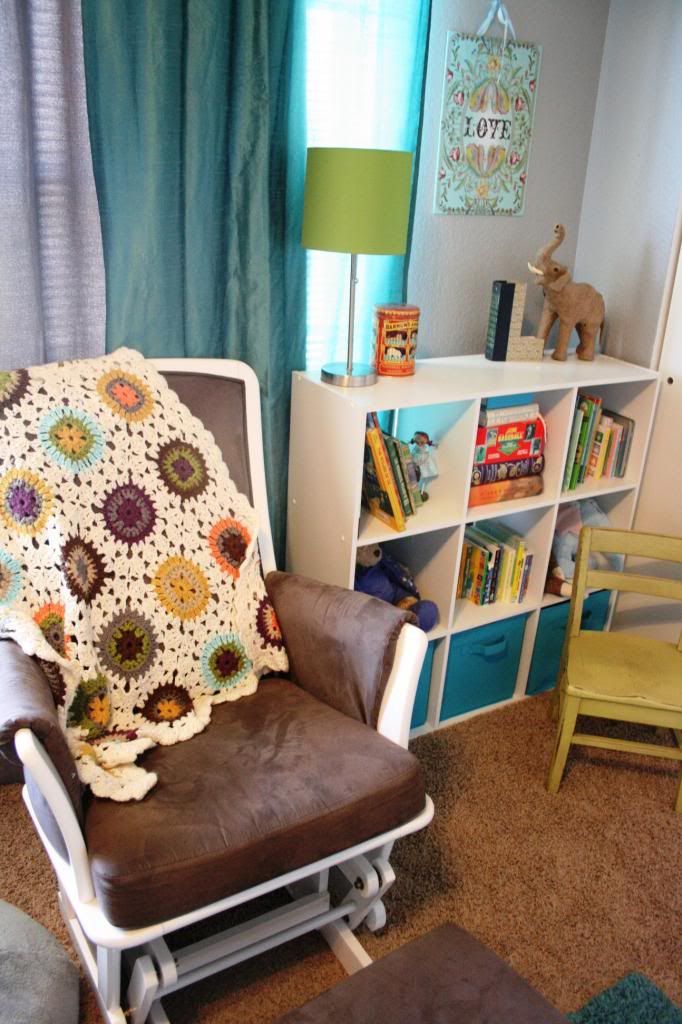 Glider: Target
"Love" Print: Papaya Art (We actually used this at our wedding!)
Lamp: Target
"L" Book: Anthropologie
Elephant: Ross

Bookshelf: Target (similar)
Baskets: Target (similar)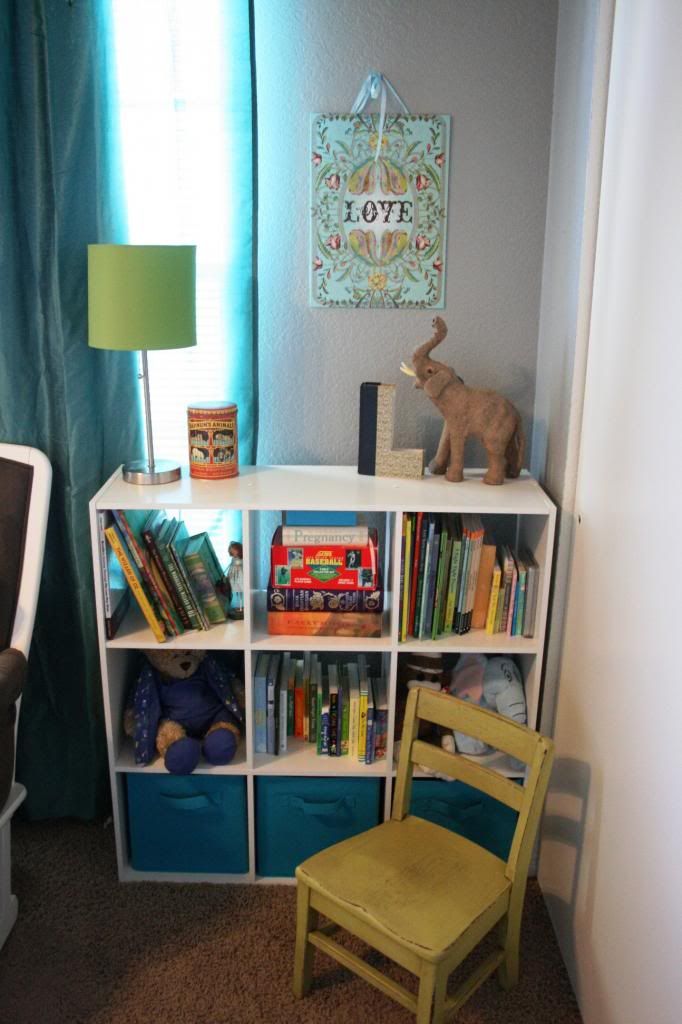 Right next to the glider is his dresser and changing station.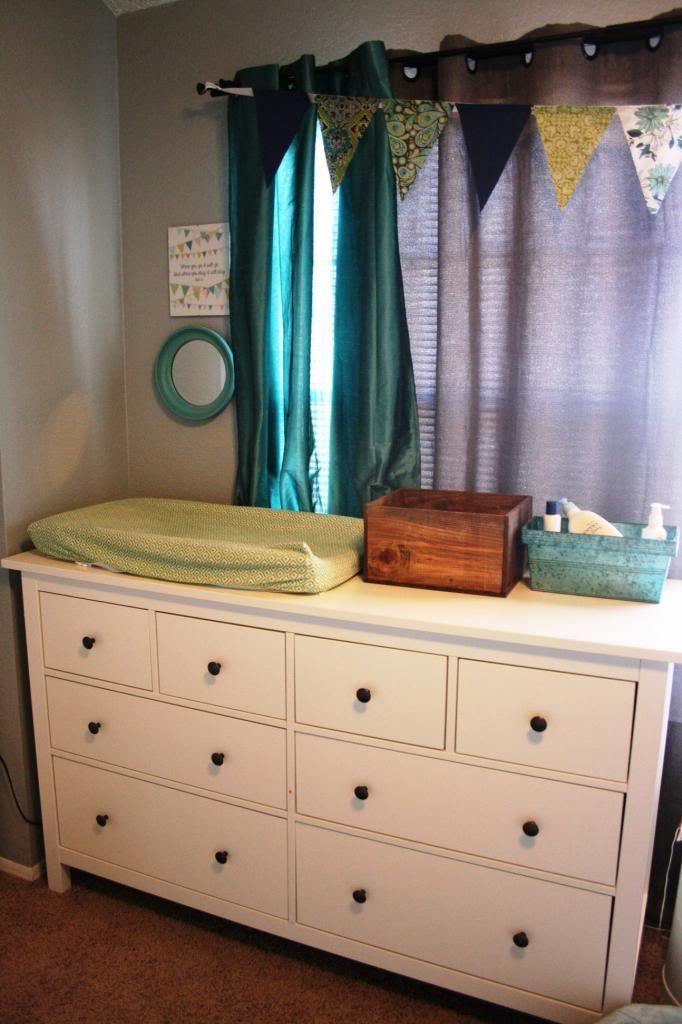 Dresser: Ikea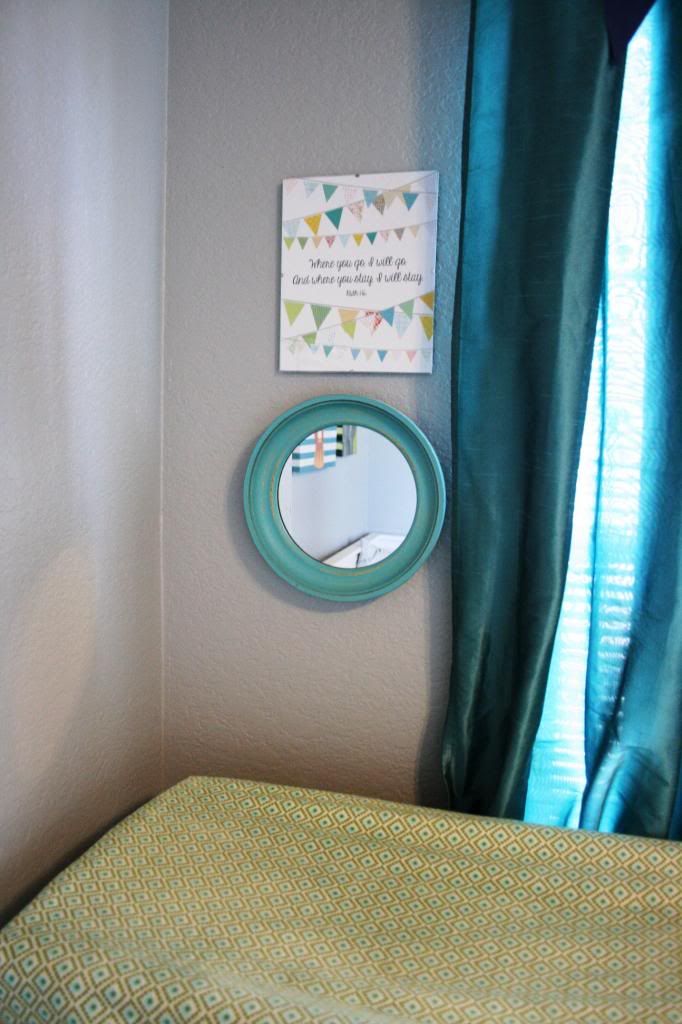 Art Print: Etsy, Printable Wisdom
Mirror: Hobby Lobby
Changing Pad Cover: Babies R Us (I can no longer find the specific product.)
Diaper Bin: A wine box leftover from a friend's wedding
Toiletry Tin Bin: Hobby Lobby
On the wall in between is the daybed. This bed is available for guests who come visit solo. We typically put Liam in our room in the pack-and-play and let our guest of honor have the room to themselves. It also provides lots of extra storage and will hopefully be his "big boy bed" one day.
Daybed: Ikea
Comforter: Target (No longer sold...it was on clearance for $10 when I bought it!)
Green Pillow Cover: Ikea ($3!)
Elephant Pillow Cover: Pottery Barn Kids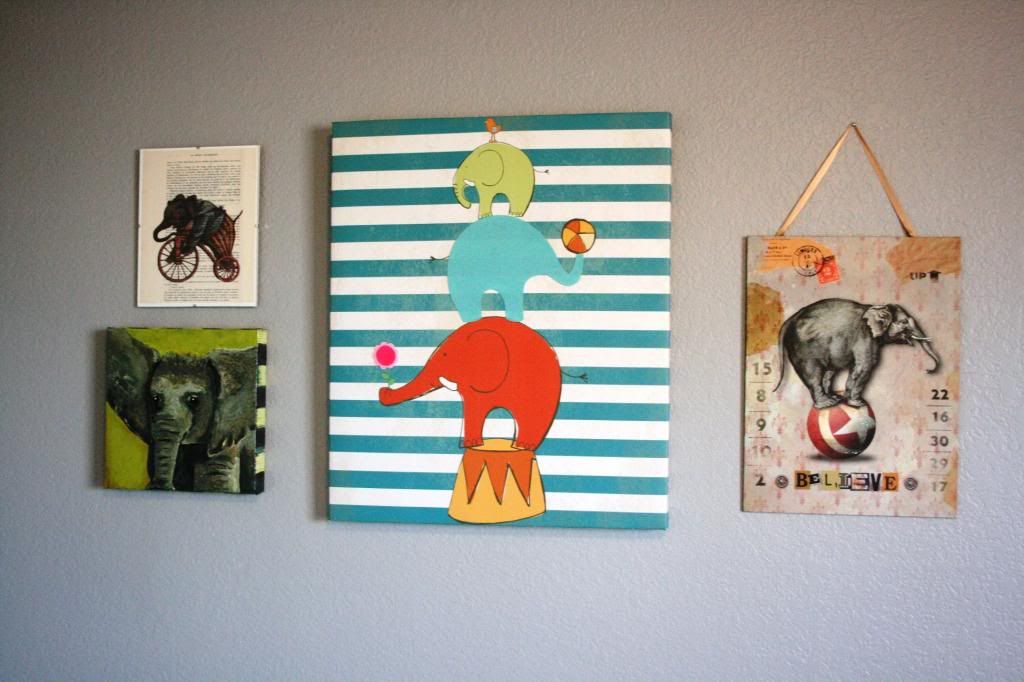 Elephant on Bike Print: Etsy (similar)
Baby Elephant Canvas: Painted by my talented mom!
Circus Elephant Canvas: Hobby Lobby
Hanging Elephant Print: Similar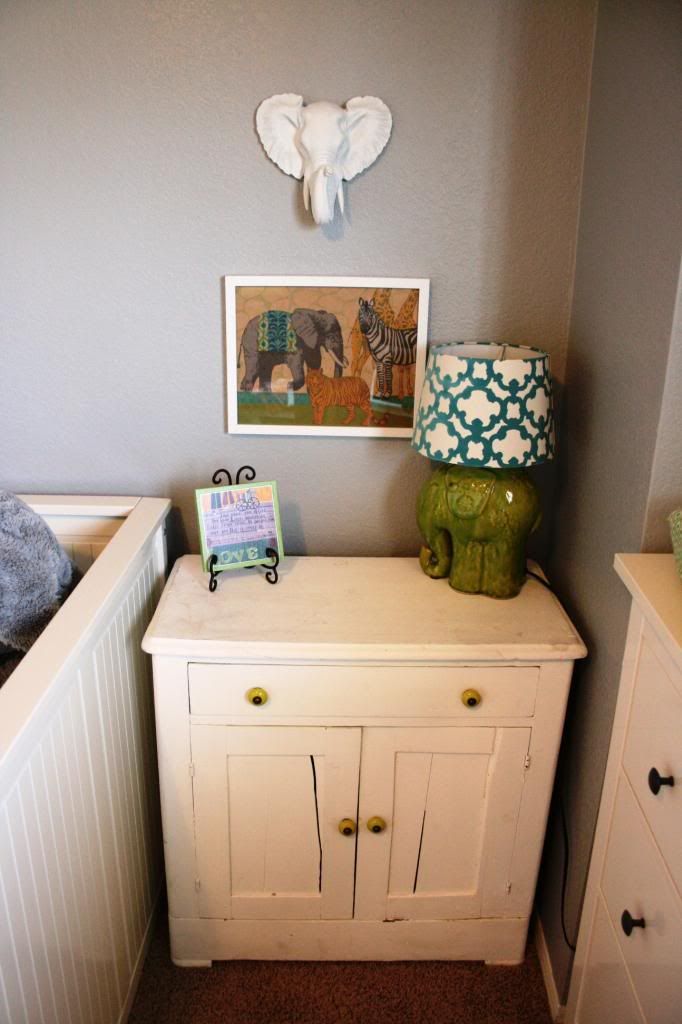 End Table: Antique Shop
Knobs: Hobby Lobby
Elephant Head: Gifted
Animal Print: Cost Plus World Market (A gift bag that I cut out and framed!)
Lamp: Cost Plus World Market
Small Art Canvas on Easel: Curly Girl Designs (A card that I modge-podged onto painted canvas!)
To tackle the "wall of window," we had to hang four curtain panels: two gray blackout curtains and two teal curtains. I added a fabric pennant along the top that was used to decorate Liam's baby shower just a couple months before he was born.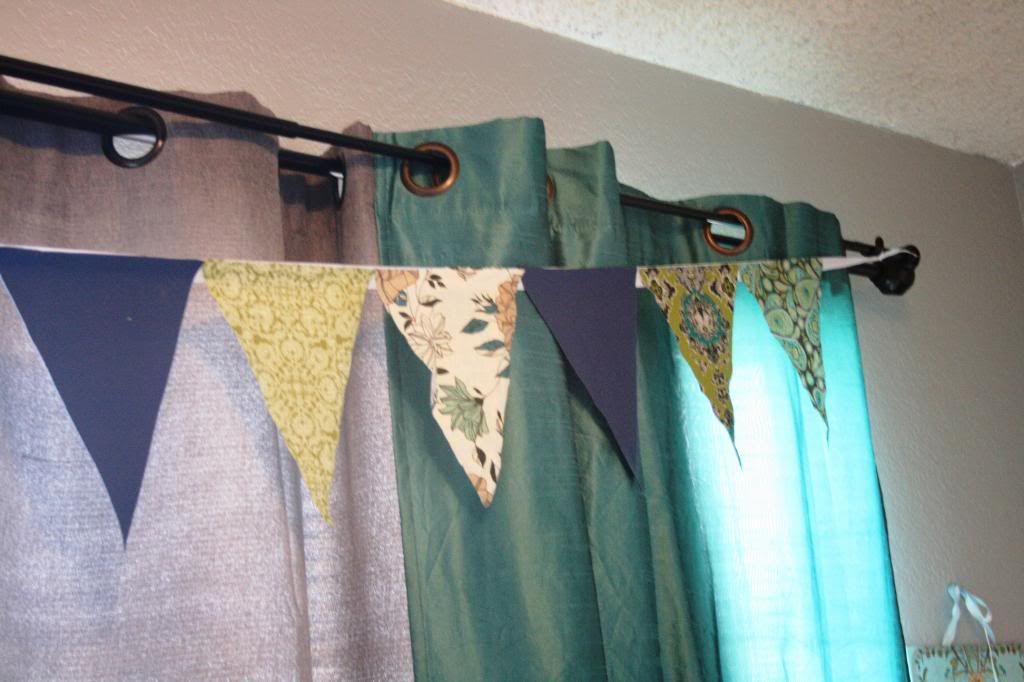 He also has a bathroom connected to his room which has been so much more convenient than I could have ever imagined. The blues and greens continue in there (but it's still in need of a good paint job).