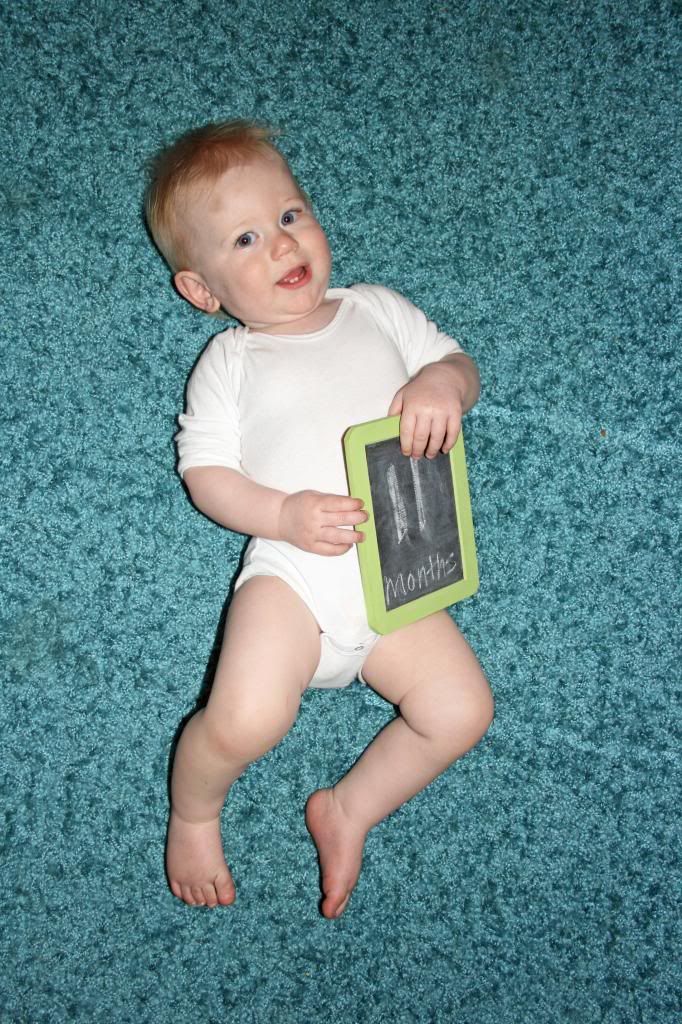 You are officially in your last month of your first year: eleven months and counting. This has been both the longest and fastest, the hardest and most joyful, the most tiring and most exhilarating year of my life thus far. But I'll save that for your one-year letter in just a couple of weeks. (Cue the tears.)
You have grown up so much this last month that it's hard to consider you a baby. You are very much nearing the toddler stage as your personality begins to completely blossom and we're seeing your brain work in new, magical ways.
You know how to "talk" on the phone. You can find Mia when I ask you where she is. You've figured out how to get past our blockade in the living room by pulling the bench forward and climbing through the legs to break free. You start calling for "Da Da" as soon as we pull up to the house. You are a bottomless pit when it comes to eating breakfast, lunch, and dinner, and you eat all big boy food. I give you almost anything and everything these days and you love it.
The biggest accomplishment this month? Walking. At right about 10 1/2 months, you took your first consistent steps, and you've become more and more confident each and every day. Now it is your main mode of transportation and you're fast.
You've always had such strong legs and those have helped you figure out how to climb up onto the couch by yourself. My one safe place, the one place you couldn't reach me, is gone. Now when you see me sitting on the couch, you come toddling over and hike your leg up to get up there with me. I feel honored, really.
We also transitioned you to a bigger car seat this last month. You love sitting up and looking out the window, and your infant car seat was holding you back. You seem much more comfortable and it looks like you enjoy car rides that much more.
Your first birthday is coming up, sweet boy, and I am soaking in these last few weeks with you before we celebrate the big day.