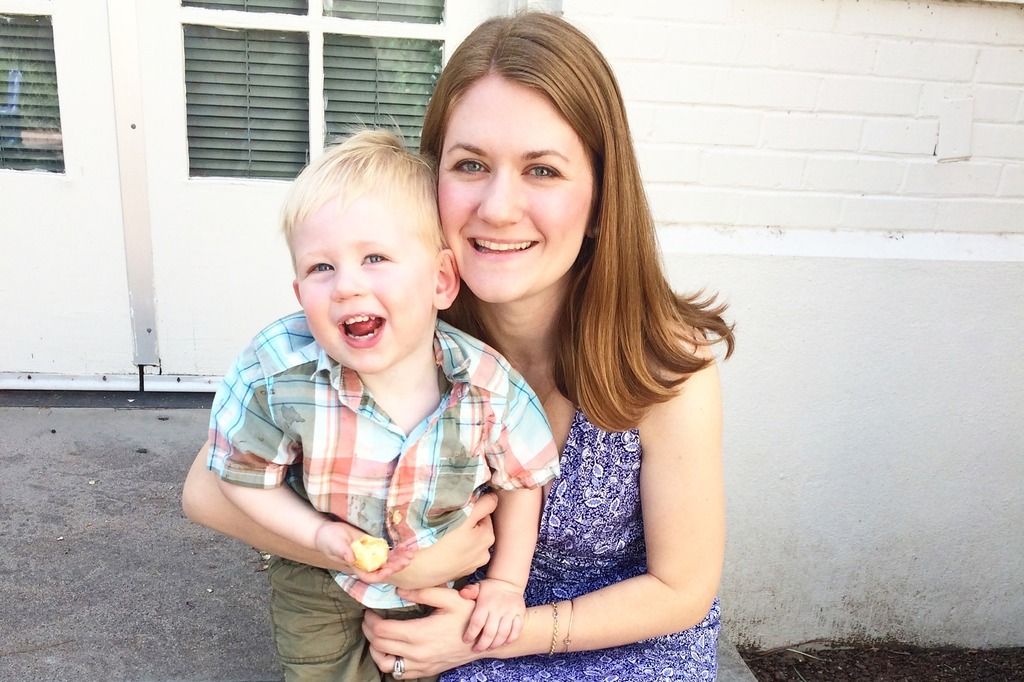 Dear Liam,
You are two years old. TWO. Two full years have passed since you were born into our lives screaming and crying with a head full of blonde hair. I never expected a blonde baby, but to this day, you have the brightest blonde head of hair I ever did see.
You and I have a special bond. We spend lots and lots of time together, just the two of us, while your daddy is at school and work. We've fallen into a routine and a rhythm and we kind of just go along together. It's a sweet dance.
This season of our lives is crazy and hectic, but I know one day I will look back and be so grateful for this time I had with you. We run back and forth between bedrooms in the morning as I try to get us both dressed for the day. You hand me my brush, I take away my toothbrush, you hand me a pair of shoes you want me to wear, I hand you a piece of trash to throw away to distract you for 2.3 seconds.
On the weekends, I try to sleep in as long as possible until I hear your voice, "Mama? Mama?" We wake up and ideally do a lot of nothing except stay in our pajamas and sit and drink our respective cup of milk and coffee. I try to watch Good Morning America and you request a rotation of Elmo, Choo-Choo (Thomas), and Monkey (Curious George). I pretend like I don't hear because there's a news story coming up I want to see, but I eventually give into your demands and we settle into watching the same episode we watched over and over already. You cuddle up with me on the couch and there is nothing else I want to do.
I try my best to be extremely intentional with you. Maybe it's a bit of working mom guilt, or maybe it's just plain mom guilt, but I try to make memories with you as often as I can. And yes, memories can be made up of back-to-back-to-back episodes of Elmo and eating breakfast together while Face-timing family, but I also want those memories that say, We did that together.
So we go to the zoo. And friends' houses. And parks. And more parks. We sneak away for ice cream sometimes right after school, and we go on a donut breakfast date on Saturday morning because it's cheap and it gets us going for the day. We take trips to see family and I've lost count of how many plane rides you've been on. 20? Give or a take a few.
I took you to Easter service this last weekend. I was excited to get dressed in our Sunday best and have this special time with you. The pastor spoke of how Jesus goes before us, all of us. I couldn't help but think how He goes and stands before me and you on our weekends together, before the busy weeks where we are running in circles around each other, before months that whiz by, and before years where I am hopeful for dreams and changes coming to fruition. It fills me with such hope and faith knowing that our God is way ahead of us as we try and figure out this life together - you and your two years of experience walking this planet, and me with my two years of experience raising a little human with a precious soul.
And when I mess up, you give me grace. And when you mess up, you say, "I'm sorry, Mama." And you hug me and kiss me immediately. You are a picture of the grace I need to give myself and others, straight from my very being and played out in front of my very eyes.
I look forward to more memories we will continue to make, the snuggles you so openly give me, the moments of grace we give one another.
Thank you for the privilege and trust of being your mama.